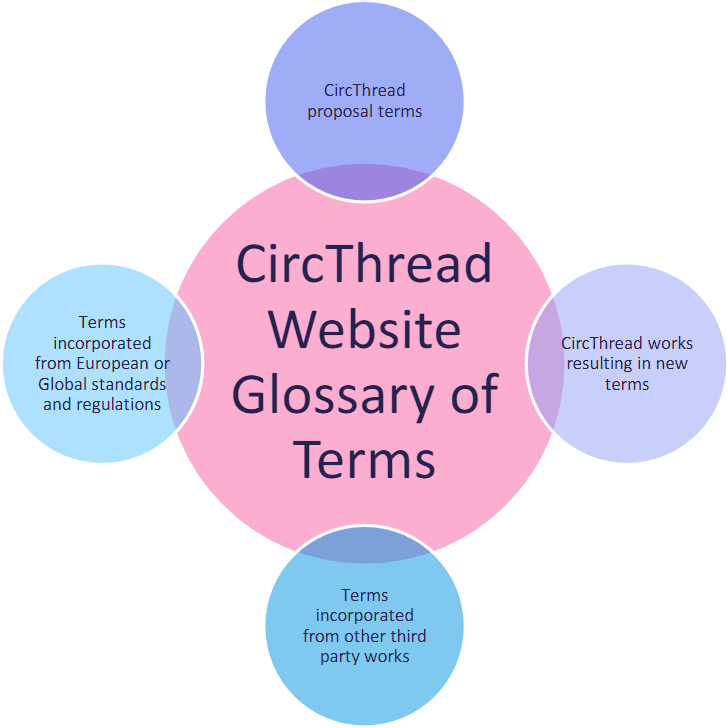 The CircThread proposal and project covers many new terms that are related to the Digital Circular Economy.
To familiarise the project partners with these terms and to make the terms also more widely known, a glossary of terms is setup.
This as a mechanism to lookup terms when deemed helpful by an expert working on the project.
Bill of materials
An extensive list ofraw materials, components, and instructions required to construct, manufacture,or repair a product or service. A bill of materials usually appears in a hierarchical format, with the highest level displaying the finished product and the bottom level showing individual components and materials.
Circularity assessment
The evaluation of circular economy from the perspective of maximising the longevity of products and their materials across product lifecycle(s), as well as to minimize and valorize the waste generated.
Circular digital thread
The communication framework that allows a connected data flow and integrated view of a product and its materials data across multiple lifecycles.
Critical raw materials
Raw materials that are economically and strategically important for the European economy but have a high-risk associated with their supply
Chain of custody
A process by which inputs and outputs and associated information are transferred, monitored and controlled as they move through each step in the relevant product supply chain.
Data contract
A formal agreement between a data consumer or user and a data provider or owner that defines the conditions under which the data is exchanged between both parties.
Data consumer
An individual, group, or application that receives data from a data provider or data owner.
Digital product catalogue
An overview in meta-data form of the information that can be requested about the product via a digital repository from linked data owning parties in a data federation.
Data federation
A meta-database management system which maps individual databases, by which multiple datasets are made accessible to data consumers via one data source by using on-demand data integration.
Data marketplaces
Collaborative and trading platforms that facilitate innovation by easing access to otherwise disparate sources and deployments of information, expertise, software applications and data.
Dataspaces
A type of data relationship between trusted partners, each of whom apply the same high standards and rules to the storage and sharing of their data. In a dataspace data is not stored centrally but is stored by the original source and only shared when necessary.
Data sovereignty
The concept that the data an organization collects, stores, and processes is subject to the nation's laws and general best practices where it is physically located.
Digital thread
The communication framework that allows a connected data flow and integrated view of a product's data throughout its lifecycle across traditionally siloed functional perspectives.
Electrical and Electronic Equipment (EEE)
Equipment which is dependent on electric currents or electromagnetic fields in order to work properly and equipment for the generation, transfer and measurement of such currents and fields.
Enterprise Resource Planning (ERP)
Technologies and software systems companies use to manage and integrate their core business processes.
Life Cycle Sustainability Assessment (LCSA)
The evaluation of all environmental, social and economic negative impacts and benefits in decision-making processes towards more sustainable products throughout their life cycle.
Manufacturing Execution Systems (MES)
Computerized systems used in manufacturing to track and document the transformation of raw materials to finished goods.
Product Environmental Footprint (PEF)
A standardised new multi-criteria measure of the environmental performance of a good or service throughout its life cycle facilitated by the European Union.
Product Lifecycle Management (PLM)
The management of data and processes used in the design, engineering, manufacturing, sales, and service of a product across the entire lifecycle.
Registration, Evaluation, Authorisation and Restriction of Chemicals (REACH)
A European Union regulation dating from 18 December 2006. REACH addresses the production and use of chemical substances, and their potential impacts on both human health and the environment.
Restriction of Hazardous Substances Directive (RoHS)
A European regulation dating from 2002 2002/95/EC, short for Directive on the restriction of the use of certain hazardous substances in electrical and electronic equipment.
Software as a Service (SaaS)
A method of software delivery and licensing in which software is accessed online via a subscription, rather than bought and installed on individual computers.
Tracking
Tracking generally means following the path or current location of a delivery in real time.
Tracing
Tracing means following the path of a delivery backwards from its current point to where it started.
Waste Electrical and Electronic Equipment (WEEE) directive
The European Union WEEE Directive adopted in 2003 set collection, recycling and recovery targets for all types of electrical goods.