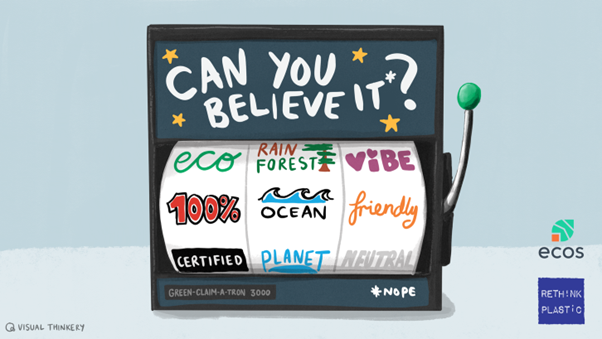 As consumers, an increasing number of us aspire to buy sustainable products, and hopefully diminish our impact on the planet. And companies have been quick to catch on this trend! The market is now flooded with biodegradable toothbrushes, carbon neutral flights, plastic compensated packaging, green bonds and sustainable investment funds. Showcasing environmental footprints has become a marketing strategy, regardless of how reliable or relevant the information is.
This is not to say that none of these claims are reliable: many companies are now investing in sustainable processes, ecodesign, and circular business models to propose a more sustainable offer to their customers. The issue is that they are drowned in the ocean of false and misleading claims , made by ill-intended companies for the sole purpose of riding on the sustainability trend without making any significant changes. How can we tell sustainable products apart in this context?
Luckily, the EU legislators are finally starting to address this problem. In the European Union, the European Commission (EC) proposed in March 2022 a reform of the Unfair Commercial Practices Directive, to include specifications against generic environmental claims when no substantiation is provided. For example, it will no longer be allowed to say that a product is 'climate friendly' and nothing else.
To complement this broad initiative, in March 2023, the EC doubled down with a proposal for a directive on Substantiating Green Claims, which introduces mandatory requirements when making voluntary claims on the environmental aspects of a product (e.g. on its climate footprint, on its reusability, etc.). These requirements include principles on how to substantiate a claim, mandatory disclosure of information related to the substantiation (e.g. data sources, methodology, etc.) as well as a third party verification that needs to be done before a claim is publicised to consumers.
But how will consumers be able to access this information? How are companies going to gather the data needed to make the claims they want to make? How to ensure that the information is reliable?
This is where projects such as CircThread enter the game. CircThread is a digital platform that aims to provide product transparency and traceability across supply chains. Funded by the EU Horizon 2020 Fund for research and innovation, the project covers home appliances such as fridges, washing machines and the likes. It will offer a Digital Product Passport (DPP) that includes information about a product's origin, materials, and manufacturing processes, as well as its environmental and social impact.
From a company point of view, CircThread can help avoid greenwashing by providing a comprehensive, data-driven view of a product's environmental and social impact. By collecting and verifying data from across the supply chain, CircThread can help companies identify areas where they can improve their sustainability practices and ensure that their claims are accurate and transparent. This can help companies build trust with customers and differentiate themselves in a crowded market by providing verified sustainability credentials.
Meanwhile, consumers can use the Digital Product Passport to see all the information related to the environmental claims. A key challenge will be to ensure that this information is understandable for consumers, to help them make more informed purchasing decisions. Consumer organisations and environment advocates will also support them making sense of this information, as it will be a lot easier for them to spot and report greenwashing, but also to showcase trustable companies!
One of CircThread partner is ECOS, the Environmental Coalition on Standards. We are an international NGO advocating for environmentally friendly technical standards, policies, and laws. One of our areas of focus is promoting comprehensive, reliable and transparent communication from companies about their environmental claims.
ECOS wants to see policymakers and standardisers eliminate loose definitions on environmental terms such as reusable or refillable, ensure that the circular hierarchy is respected, assess characteristics based on real-life conditions using robust accounting and verification methods, and ensure evaluation and transparency of claims. Companies wishing to boast about the environmental performance of products must do so by providing the consumer with full and frank information. Only this way will brands build consumer trust, enable fair comparison with competitors, and genuinely help protect the environment. ECOS' work is guided by UNEP's fundamental principles to provide product sustainability information, as summarised in our Too Good to be True report on plastic claims and in our report on Carbon neutral claims:
Claims should be comprehensive: they must cover significant aspects (hotspots) and not mask poor performance or burden shifting. Limits of the claim must be clearly stated.
Claims should be reliable: the information must be accurate and scientifically true. Data, assumptions and methodologies must be robust, consistent and appropriate to the type of claim.
Claims should be transparent, meaning both clear and easy to understand by consumers, and the underlying information should be readily accessible.
ECOS 2023 Annual Conference on June 14th will be a unique opportunity to discuss how we should communicate environmental information to ensure it is reliable and transparent. Save yourself a seat for our event to make sure you don't miss the very timely discussion, where we will outline how regulations and standards should push companies to communicate their climate action in a credible way, which, in turn, will guide consumers towards truly sustainable choices.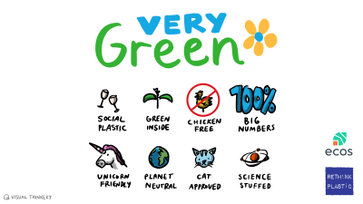 Author: Margaux Le Gallou for ECOS